This month finds us in the Top 5 App Development Firms in Uruguay 🇺🇾, and Top 30 in Latin America 🌎, according to Clutch.co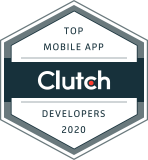 Clutch is a US-based and worldwide recognized ratings and reviews platform, where leading IT, marketing, and business services companies are listed and classified.
Reviews from clients are the most heavily weighted portion of Clutch's methodology, and Clutch conducts interviews with the company's clients to get those reviews. That's why Clutch is such a trusted platform, and making it to the top makes us very proud.
We thank our clients for helping us get there by taking the time to be interviewed.
On top of that, we are also being featured in
Thank you for trusting Houlak, and let's keep it up with the good work! 🚀🚀
---