As every year, Apple hosted a new edition of the WWDC this week 🙌. This time and for the first time, the event was held in an entirely virtual modality due to the pandemic the world is going through. 😷
Eager to know what was new in the Apple world, we took some time from our schedule to watch the Keynote of the event. As always, Apple enlightened us with some new feature, technologies and fun challenges for us developers. 👨‍💻👩‍💻
You missed it? We've got you covered! Here's a quick summary of the Keynote's highlights:
📱iOS 14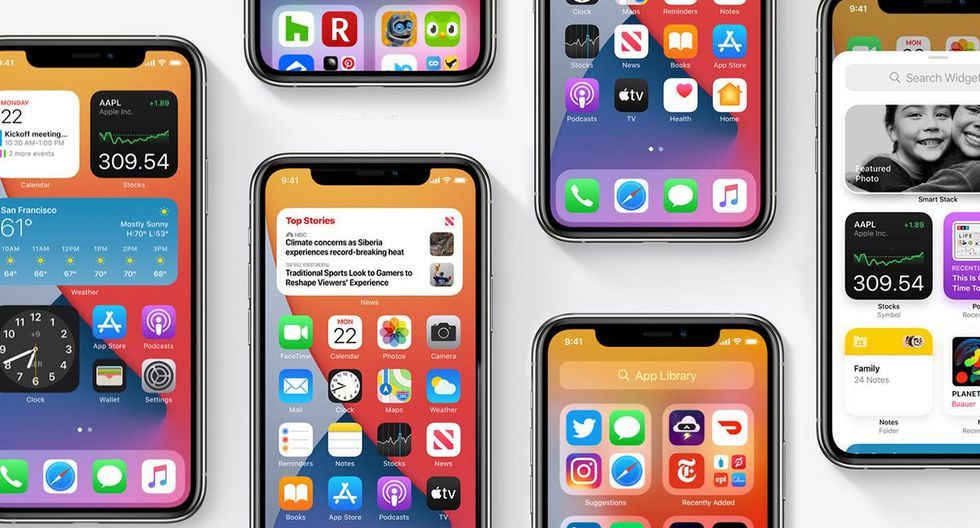 A new iOS version is coming! This version is packed with some cool new features and interface changes:
App Library: This new Home screen will show an automatic categorization of all your apps. Showing first the ones that you use the most.
Widgets: Not only you will be able to see highlights and useful information about your apps, but also, you will be able to display them in the home screen and resize it as you like.
Picture in picture: Want to watch Youtube while you send a message or reply an email? Well, now you'll be able to do it! You will also be able to drag it around the screen so it's not in the way.
Maps: Apple is mindful about the climate change. That's why they added charging station spots and directions for electrical vehicles so they are easier to find. Also, they are adding cycling directions to take into consideration bike lanes and hills.
CarPlay: There's a new feature for CarPlay, you will now be able to use your phone as you car key. So far, this is only going to be working with new BMWs, however, they are planning to extend this to more manufacturers.

App Clips: You want to order a coffee from Starbucks but you don't want to go through the tedious flow of downloading the app, registering and adding your payment info? App Clips are here to make our lives easier! They are lightweight Applets that will pop on demand and will not need to be installed in your phone to use them. 

Scribble: (iPad specific) You'll now be able to handwrite your search in Google, a new message and every textfield you find.
🎧 AirPods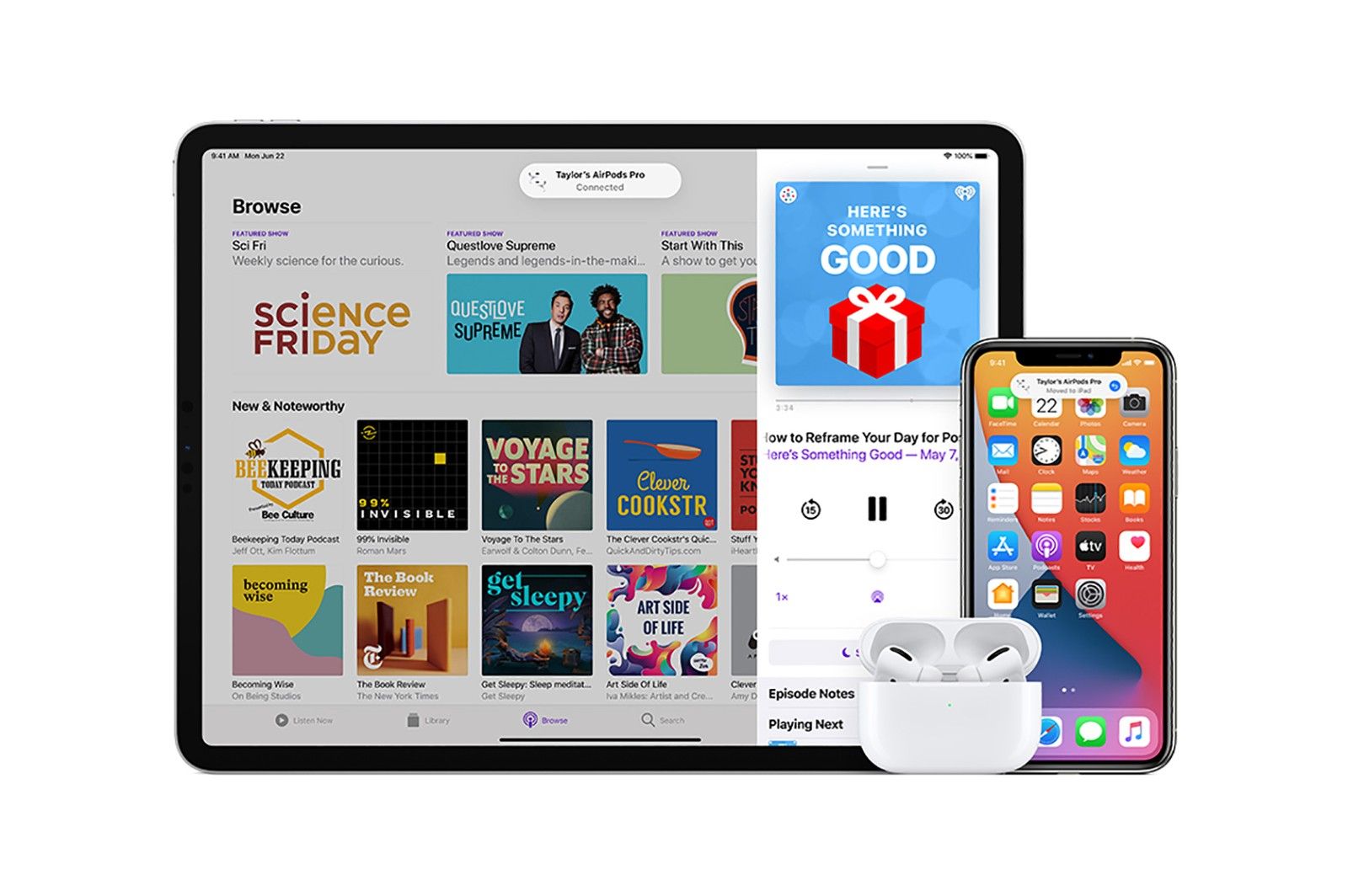 Automatic device switching: Have you struggled when wanting to use your AirPods in different devices? Well that's a thing from the past, the AirPods will switch automatically depending on the task you're performing on each device.

Spatial Audio: (AirPods Pro specific) The position of your head will now be taken into consideration using the accelerometer to make it feel like the sound is surrounding you all the time.
⌚️ Watch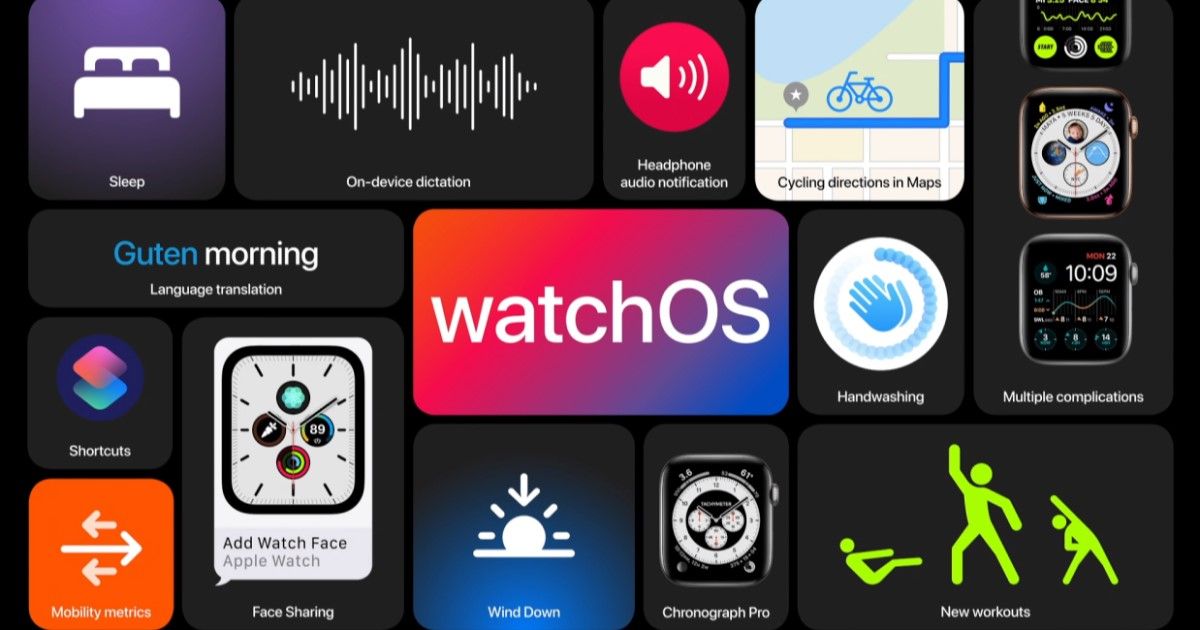 Face Sharing: You can now configure the face of your Apple Watch and share it with friends and family so they can use it as well.

Complications: All Apple Watch apps can offer multiple face complications instead of only one.

Sleep Tracking: The watch is now going to be able to track your sleep and record your sleep patterns.
🔑 Privacy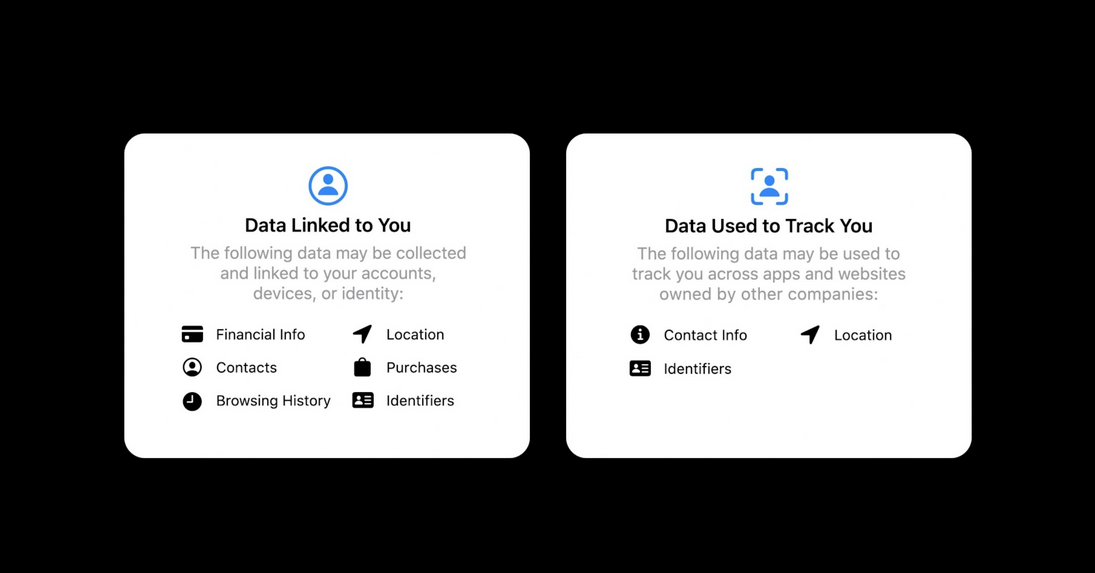 As we use our phones for mostly everything, privacy is more and more important. This is what Apple is implementing to protect it:
Mic and camera indicator: iOS will now show an on-screen indicator whenever your camera or mic is being used by an application.

Simplified Privacy Policy: Developers will now have to provide a simplified version of the Privacy Policies. They will have to summarize what user data they are using. This summary will be shown in the App Store prior to download.
🏠HomeKit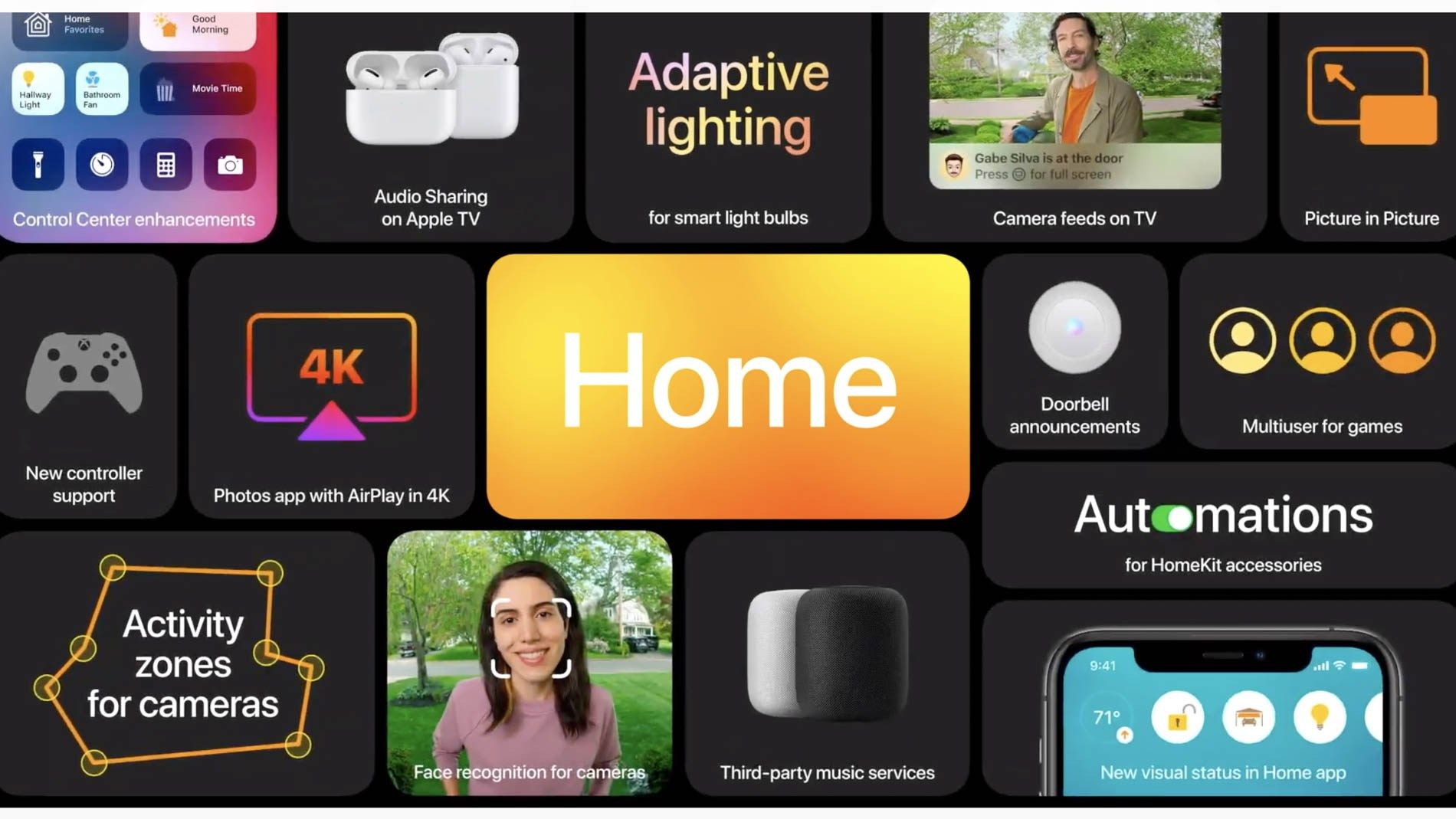 Adaptive lightning: Your home lights brightness and temperature can now be adjusted automatically by HomeKit depending on the moment of the day. 

Face recognition: Doorbell cameras can now recognize known faces. You can configure it to also get a notification of who's at the door via HomePod/AppleTV notifications.

Activity Zones: You can now setup which zones of the video stream of your security cameras you want to get notifications of.
💻 macOS Big Sur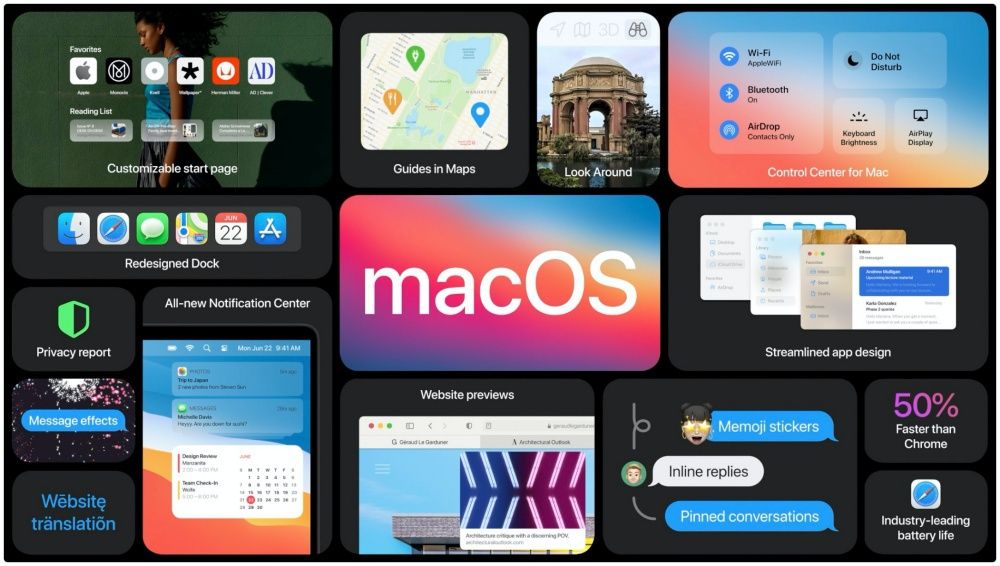 A brand new macOS is coming! This time called "Big Sur". Same as with iOS 14, the look and feel is getting improved.
Control Center: As with iOS, controls of volume, brightness, wifi, bluetooth are going to be displayed as a dropdown in the upper right area.
Notification Center: You will be able to clean notifications easily. Also, widgets are going to be displayed together with notifications in a unified view.
Safari: Safari will now monitor your saved passwords in order to detect if it was compromised by a breach of any kind.
Maps: The app has been redesigned with support for in-door maps and guides.
⚙️Apple Silicon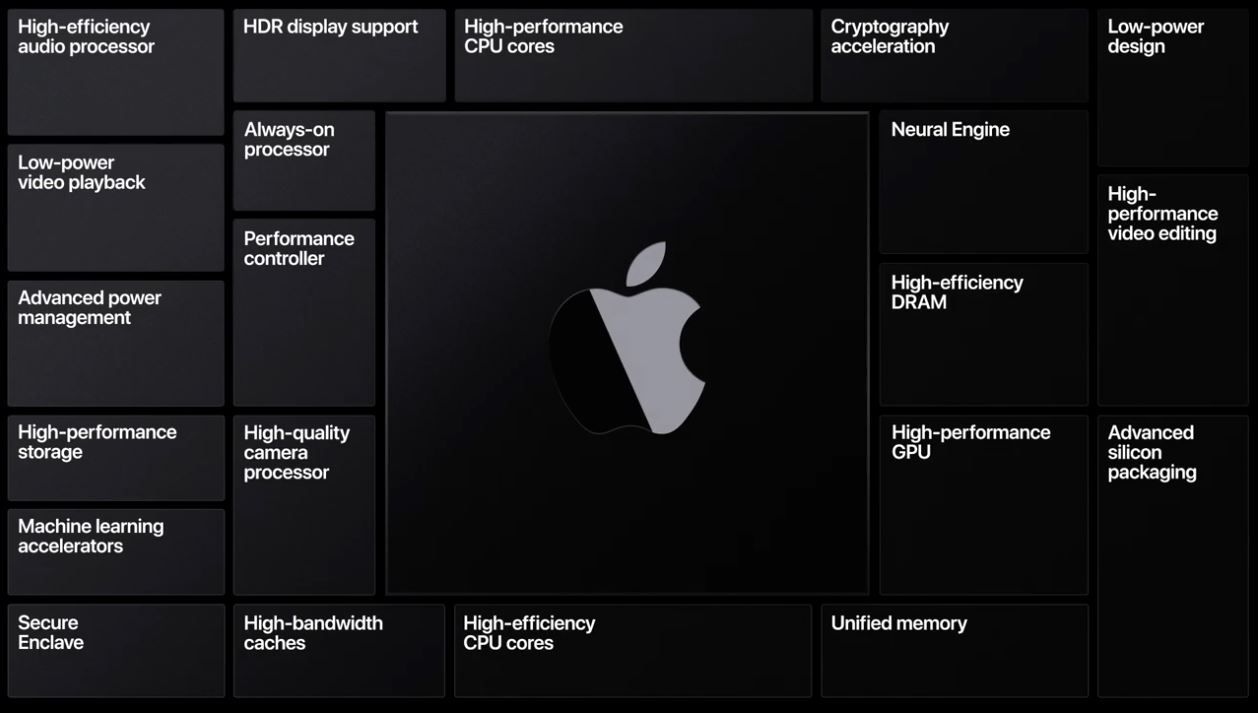 Apple is now switching from Intel to an in-house custom ARM based CPU. The reasoning behind this is to go along with what they have been doing with the iPhones, iPads and Watches. More performance and less power consumption are the key to make this transition. 

If you're building macOS apps, you will need to update your application in order for it to run natively on the new chipsets. However, already existing applications will be translated automatically by Rosetta 2 to run smoothly on the new chipset.
🤩 As you can see a lot of new cool features are coming soon! If you want to read or watch more, here is the link of the event videos and transcripts: https://developer.apple.com/videos/wwdc2020/
---